SKILLS: 

Nederlands | Amerikaans acteur | Internationale carriere | Nederlands en Engelstalig voice over | Geweldige camera acteur met veel gezichten | EU rijbewijs.
Geboren in Amsterdam, opgegroeid in Europa en afgestudeerd aan de Rose Bruford College of Speech and Drama in London, ontwikkelde Joshua zich tot internationaal camera- en voice overacteur. Als Nederlands en Amerikaans native speaker werkte hij mee aan nationale- en internationale series en films.
Recent speelde hij een gastrol in de Nederlandse hitserie Penoza (2017) en de Russische blockbuster Sobibor. (2018) Joshua speelde Willem van Oranje ten behoeve van de tentoonstelling WILLEM (2018) in het Nederlands Militair Museum en de Italiaanse speelfilmModalità Aereo (2019). Momenteel speelt hij in de slapstick zombie speelfilm Yummie (2019).
Zijn stem is te horen onder animaties, video games, commercials en na internationale synchronisaties.
  SKILLS: 

Dutch | American actor | International carreer | VO | Great screen actor with many different faces! | EU driving license.
Born in Amsterdam, raised in Europe and a graduate of Rose Bruford College of Speech and Drama in London, Josh continues to establish himself as an international screen and voice actor.
Having both Dutch and American Citizenship, and speaking native Dutch and English, Josh has worked on numerous European and International feature films and television series.
His most recent film & tv  credits include playing Jakob in the Russian blockbuster movie Sobibor (2018) Shane in  6 episodes of Penoza (2017) Black Widow, directed by Michiel van Jaarsveld & Willem Gerritsen; and Mark de Koster in The Fox, directed by Klaas van Eijkeren. Josh's latest film is Modalità Aereo (2019) directed by Fausto Brizzi. Josh is currently shooting for Yummy (2019) a splatstick zombie feature  directed by Lars Damoiseaux. His many voices can be heard in animations, video games, commercials  and narrations world wide.
 SKILLS: 
Uniek | Veelzijdig en meester in timing | Cabaretier | Non-verbaal mime speler | One man show | Internationale carrière.
Eric Koller viel op en werd ontdekt door CIRQUE DU SOLEIL in 2016.
André behartigde Eric's belangen en onderhandelde met de Canadese producent. Eric werd gecontracteerd als LEAD CLOWN in de show "LUZIA".
In eerste instantie zou Eric 360 shows spelen, inmiddels heeft hij al meer 750 shows gedaan. LUZIA tourt door de Canada, de Verenigde Staten en Mexico.
In de Amerikaanse pers wordt regelmatig geprezen voor zijn unieke performance.
Wat is 2016 begon duurt nog steeds voort in 2020!
  SKILLS:
Unique | Multi-disciplined and master of timing | Cabaratier | Non-verbal mime artist | One man show | International career.
Eric Koller stood out and was discovered by CIRQUE DU SOLEIL in 2016.
André looked out for Eric's interests and negotiated with the Canadian producer. Eric was contracted as LEAD CLOWN in the show "LUZIA".
Initially Eric was supposed to play 360 shows; he has now already done over 750 shows. LUZIA is touring through Canada,, the US and Mexico.
In the American press Eric is regularly praised for his unique performance.
VERTEGENWOORDIGING BUITEN NEDERLAND
  SKILLS: 
Droogkomisch camera- en theateracteur | Drama | Comedy | Zeer goede Engelse taalvaardigheid | Presentator | Zanger | Autoharpspeler | Sport: Golf, Karate en Yoga | EU rijbewijs.
NL: Harry Piekema, TV-persoonlijkheid, film- en theater acteur. Timing is alles voor Harry en dat typeert zijn spel. Hij speelt graag vreemde karakters gedreven door donkere emoties. Zijn showreel laat daar duidelijke voorbeelden van zien.
Agent voor Nederland: Henze Pegman.
Internationaal: Ask My Agent
  SKILLS: 
Dry humor/Deadpan camera and stage actor | Drama | Comedy | Excellent English | Presenter | Singer | Autoharp player | Sport: Golf, Karate and Yoga | EU License
Harry Piekema, experienced and versatile actor in drama and comedy. His love for odd characters and men driven by dark emotions both, brought him to play ultra-right politicians, clumsy men, harsh fathers, sympathetic loners and corrupt policemen.
Harry is a master in timing and the camera just loves him. Check him out!
  SKILLS:
Grande dame van het Nederlandse toneel | Zeer tekstvast | Groot inlevingsvermogen | Film- en televisie drama-actrice met jonge geest.
Als actrice en voordrachtkunstenares beschikt Ingeborg Uijt den Bogaard over een rijke ervaring. 
Zij begon haar loopbaan bij de Toneelgroep Studio, aanvankelijk een reizend gezelschap dat vanaf 1961 als eerste in Nederland een modern repertoire speelde waarin experimenteel en absurdistisch theater ruim vertegenwoordigd waren met o.a. Mrozek, Samuel Beckett en Ionesco. Na een succesvolle start bij Studio met de hoofdrol in een langlopend stuk kreeg zij gevarieerd en verantwoordelijk werk te doen, gedegen basis voor haar verdere loopbaan.
Naast het theater trad zij veelvuldig op voor de NCRV-Radio met soloprogramma's proza en poëzie en werkte jarenlang mee aan de literaire radioprogramma's van de KRO. Zij ontwikkelde een voorliefde voor het literaire verhaal, waarbij een eigen stijl van voordragen ontstond. Haar voordrachten worden gekenmerkt door de grootst mogelijke eenvoud en het appèl aan de creatieve fantasie van haar toehoorders zodat het verhaal a.h.w. in de ruimte komt te staan en de beleving versterkt wordt.
Door de jaren heen heeft Ingeborg Uijt den Bogaard een veelzijdig repertoire opgebouwd.
2018: Ingeborg speelt rol in nieuwe Johan Nijenhuis speelfilm 'De beentjes van St. Hildegard' en in Caiway commercial.
SKILLS:
Grande lady of the Dutch stage | Very solid on text | Great empathy | Film and television drama actress with a young spirit.
As an actress and dramatic speaking artist Ingeborg possesses a wealth of experience.
She began her career at the Toneelgroep Studio, initially a travelling company that from 1961 onwards became the first in The Netherlands to play a modern repertoire in which experimental and absurdist theatre were broadly represented with such greats as Mrozek, Samuel Beckett and Ionesco. After a successful start at Studio with the lead in a long-running show, she got to enjoy doing varied and responsible work, a solid basis for her future career.
Besides theatre she often performed for the NCRV-Radio with solo programs, prose and poetry, and for many years worked on literary radioprograms for the KRO. She developed a love for the literary story, whereby a very own style of reciting was created. Her recitals are characterised by the greatest simplicity and the appeal to the creative fantasy of her listeners so that the story, as it were, comes to stand in the space and the experience is heightened.
Throughout the years Ingeborg Uijt den Bogaard has built up a diverse repertoire.
2018: Ingeborg is playing a role in the new Johan Nijenhuis feature film "The legs of St. Hildegard" and in a Caiway commercial.
 SKILLS:
Naturelle camera- en theaterspeler | Sportief | Zowel Nederlands en Engelstalig | Zanger | Presentator | EU rijbewijs.
Met zijn gevarieerde scholing is Matthijs [1978] hard aan de weg aan het timmeren met zijn acteercarrière, zowel in Nederland als daarbuiten. Hij sterk in zowel groot als klein spel, flexibel, 2-talig [Nederlands & Engels] en goed met timing en subtekst.Recentelijk is hij o.a. te zien geweest in Flikken Rotterdam, speelt hij in commercials van o.a. Fruittella en mocht hij de rol van Jimmy de la Rosa vertolken in de prijswinnende short Capo di Famiglia. Daarnaast is hij binnenkort te zien in de speelfilm Mette onder regie van Esther Rots en in 13 afleveringen van de kinderserie #Forever.
Met zijn inzet, goede voorbereiding een 100% professionaliteit op de set is hij klaar voor elke rol, ook over de grens. Recent speelde hij in een internationale automotive commercial en in de Italiaanse speelfilm Modalità Aereo [2019] geregiseerd door Fausto Brizzi.
SKILLS: 
Natural camera and theatre performer | Sportsman | Both Dutch AND English speaking | Singer | Presenter | EU license
With his varied education Matthijs [1978] is working hard on his acting career, both in The Netherlands and abroad.
He is strong in both large and subtle performances, flexible, and bi-lingual [Dutch & English], and is good with timing and subtext.
Recently he was seen in, amongst others, Flikken Rotterdam, Fruitella commercials, and was allowed to play the role of Jimmy de la Rosa in the award-winning short Capo di Famiglia. He will soon also be seen in the feature film Mette, directed by Esther Rots, and in 13 episodes of the children's serie #Forever.
With his effort, good preparation and 100% professionalism on set he is ready for any role, also abroad. He recently played in an international automotive commercial and in the Italian feature film Modalità Are [2019], directed by Fausto Brizzi.
 SKILLS:
Naturelle camera- en theaterspeler | Zowel Nederlands en Engelstalig.
Geboren en getogen in België
Opleiding:
Studio Herman Teirlinck ('92-'96)
'Meester in Dramatische Kunst'
TV
De Rodenburgs – VTM
Oud Belgie – VRT
Los Zand – VRT
Goesting – VRT
Elfenheuvel – Ketnet
Click – ID – Ketnet
Pretshow – Ketnet
Cherlock – Ketnet
Dag & nacht – VTM
Kotmadam – VTM
ML!F – VTM
2000 Antwerpen – VT4
Aspe 3 – VTM
Mega Mindy (seizoen 1) -Ketnet
Flikken (seizoen 5&8) – VRT
Witse (seizoen 3&4) – VRT
Kinderen van Dewindt- (2&3) – VRT
Heterdaad – (seizoen 2) – VRT
Thuis – VRT
Familie – VRT
Spoed – VTM
Wittekerke – VTM
Zone stad – (seizoen 2) – VTM
Nachtwacht (seizoen 1&2) – VRT
SKILLS:
Natural camera and theatre performer | Sportsman | Both Dutch- and English speaker.
Born and raised in Belgium
See IMDb for more info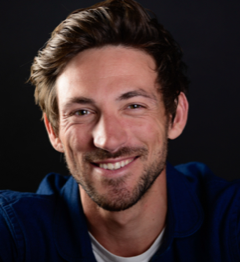 Sebastien Siegenthaler (1986)
 SKILLS:
Acteur en professioneel internationaal model | Sportief | Zowel Nederlands en Engelstalig  | EU auto en motor rijbewijs.
Geboren en getogen in Zwitserland
SKILLS: 
Actor and professional international model | Sportsman | Both Dutch AND English speaking | EU drivers license and motorcycle 
Sebastien Siegenthaler was born in Switzerland in 1986, where he spent four years of his childhood before moving to The Netherlands. Growing up, he discovered his passion for travelling and started to capture his adventureson camera. It was in New York where he bought his first professional camera and started to see the world through the eyes of a photographer. 
Continuously
 looking for new experiences, he started working as a model and actor in 2010. Working on both sides of the camera has proven to be the perfect combination in this field of work. Understanding both perspectives simply results in more fun on the set and a great 
collaboration between parties. 
VERTEGENWOORDIGING BUITEN NEDERLAND
 SKILLS: 
Humor | Timing | Open minded | Nederlandstalig | Native Arabisch.
Sabri Saad El Hamus groeide op in Cairo, Egypte. Hij studeerde economie aan de Universiteit van Cairo. In 1978, drie jaar na het behalen van zijn diploma, vertrok hij naar Nederland. In 1983 en 1984 studeerde hij aan de Toneelschool Arnhem. In 1984 speelde Sabri zijn eerste theaterrol. In 2007 werd hij artistiek leider van theatergroep De Nieuw Amsterdam. In 2017 nam hij daar afscheid.
In 2011 kwam El Hamus in het nieuws doordat hij voor het programma Pauw & Witteman verslag deed van de revolutie in Egypte.
Sabri Saad El-Hamus was born on April 21, 1957 in Cairo, Egypt.
Rep for NL : Brigitte van Gool
Rep international: AskMyAgent
  SKILLS:
Humor | Timing | Open minded | Dutch speaking | Native Arabic
Sabri Saad El Hamus was raised in Cairo, Egypt. He studied economics at the Universeity of Cairo. In 1978, three years after getting his degree he moved to The Netherlands. In 1983 and 1984 he studied at the Toneelschool Arnhem. In 1984 Sabri played his first theatrical role. In 2007 he became Artistic Director of theatregroup De Nieuw Amsterdam. In 2017 he said farewell to it.
In 2011 El Hamus made the news for reporting on the revolution in Egypt, on the Dutch talkshow Pauw & Witteman.
Sabri Saad El-Hamus was born on April 21, 1957 in Cairo, Egypt.
Rep for NL : Brigitte van Gool
Rep international: AskMyAgent
SKILLS: 

Allround acteur – improvisatievermogen- tekstvast- flexibele mimiek | Betrokken | Dienstbaar.
Acteur Jacques-Hein Vermolen (Loosdrecht) is geboren in 1961. Na zijn rechtenstudie (1990) en journalistiek werk (VNO-NCW en sportjournalistiek) is hij vanaf 1998 zijn acteerdroom achterna gegaan. Hij heeft zich geschoold bij acteeropleiding De Trap en docenten Cliff Sutton, Joe Weston, Robin Pera, Jette van der Mey, Marian Vermeulen en Helmert Woudenberg.
Ervaring:
Sinds 1990 heeft Jacques-Hein ervaring met diverse producties: film, radio en tv-commercials, voice-over, bedrijfsfilm en tv-series. Daarnaast treedt hij met enige regelmaat op in semi-amateur en betaalde professionele theaterproducties (komedie, drama, muziektheater, musical). Met als niche: trainingsacteur in theaterinterventies (regiespellen) bij bedrijven en overheid.
SKILLS: 
Drama-, comedy en improv acteur.
Winnaar: Arlecchino 2019
Mark is een afgestudeerd acteur aan de 4 jarige Theaterschool Maastricht.
Hij speelde in films en TV series als:
Bettie van de zorg | de Affaire | Penoza | De fractie | Suspicious Minds | Mi vida | Judas | Gevangen| Flikken Rotterdam Hoogmoed | Toon | Bachelor Party | Smeris | Nieuwe Buren
Commercials: ABNAMRO bioscoop
In de pers :
ARLECCHINO
De prijzen voor 'de meest indrukwekkende bijdragende rol', gingen naar Mark Kraan voor zijn rol in Cinema van Toneelgroep Oostpool i.s.m. Het Nationale Theater (Arlecchino)

SKILLS: 
Drama, comedy and improv actor.
Winner: Arlecchino 2019
Mark is a graduated actor at the 4 year old Theater School Maastricht.
He has appeared in films and TV series such as:
Bettie van de Zorg | de Affaire | Penoza | De Fractie | Suspicious Minds | Mi vida | Judas | Gevangen | Flikken Rotterdam Hoogmoed | Toon | Bachelor Party | Smeris | Nieuwe Buren
Commercials: ABNAMRO cinema
In the press :
ARLECCHINO
The awards for "the most impressive contributing role" went to Mark Kraan for his role in Cinema of Toneelgroep Oostpool in collaboration with Toneelgroep Oostpool. The National Theater (Arlecchino)